Domestic Shipping (Australia)
Nodiee Pty Ltd offers free standard shipping for all orders within Australia. These orders are estimated to arrive within 3 to 18 business days after dispatch. Orders placed before 12 p.m. AEDT, Monday to Friday, will be dispatched on the same day. This does not apply to weekends or public holidays.
For faster delivery, Express Shipping is available starting at $5.95 AUD for single items and is estimated to arrive within 1 to 3 business days after dispatch. Upon dispatch, an email with tracking information will be sent.


Same Day Dispatch Temporarily on Hold**
Due to a surge in orders from our sale (thank you!😁), we're experiencing a little bit of a backlog. Please bear with us as our team is working tirelessly to dispatch all orders within 3-5 business days upon receival. We truly appreciate your patience during this busy time. Your support means the world to us!
New Zealand Shipping
For orders to New Zealand, Standard Shipping is available at $9.95 NZD for single items, estimated to arrive within 7 to 12 business days. Express Shipping is available at $15.95 NZD for single items with a delivery timeframe of 4 to 8 business days after dispatch.
The total shipping charges for multiple items are calculated at checkout.
International Shipping
International shipping prices are determined at the checkout based on the destination. Delivery estimates for our most frequent international destinations are as follows: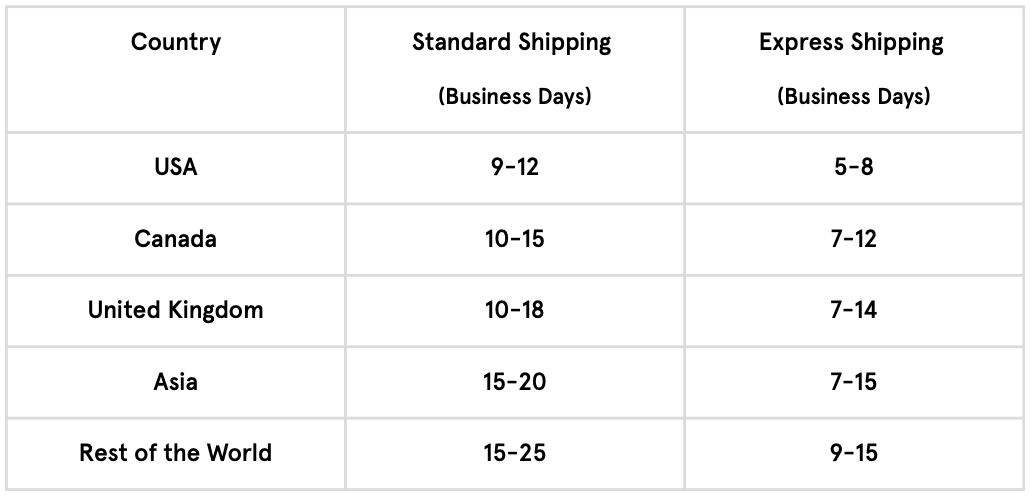 Kindly note, any taxes, duties, or customs fees incurred at the destination country are the responsibility of the customer. Also, due to situations beyond our control, there can be disruptions or delays with carriers during transit, hence, all transit times listed are estimates only. Upon dispatch, customers will receive an email with tracking information.
We do not take responsibility for items lost or damaged in the mail. Customers will be sent an email with a tracking link upon dispatch.
How long is the order processing time?
Most orders are processed as soon as the online purchase is finalised. Your order will be shipped once the items are available, your payment is authorised, and the delivery address is confirmed. Please be aware that business days exclude public holidays and are from Monday to Friday.
How can I track my order?
You can expect a shipment confirmation email with all your tracking details once you have placed an order through Nodiee Pty Ltd. The shipping details will be sent to the email address registered with your account or the email you used during the checkout process.
The tracking number will be active within 24 hours.
Can I change the delivery address after ordering?
If, for any reason, you need to update your address after placing your order, please get in touch with us as soon as possible. Our dedicated team will make every effort to accommodate your request. Please note that address changes are only possible within a limited time frame.
What happens if my order is delayed?
If the dispatch time of your order is delayed by us for any reason, we will promptly inform you and provide a revised estimated date for dispatch and delivery. Please note that the priority of delivery within the method of shipment chosen is determined by your shipper. If the shipper is holding/delaying your parcel, please contact them. We can work with the carrier to get more information on the whereabouts of your parcel however we are not liable for lost items during shipping as we cannot control carrier delays. Estimated transit times may vary.
What should I do if an item is delivered damaged?
Please note that Nodiee Pty Ltd is not liable for any products damaged or lost during shipping. If you received your order damaged, please contact the shipment carrier to file a claim. Save all packaging materials and damaged goods before filing a claim.
How can you contact us about this policy?
If you have any further questions or comments, you may contact us at info@nodiee.com.
This Shipping Policy is part of our Terms of Service and should be therefore read alongside them: https://nodiee.com/pages/terms-of-service. Please carefully review our Shipping Policy when purchasing our products. This policy will apply to any order you place with us.
SAME DAY DISPATCH!!
All orders placed before 12pm AEDT, Monday to Friday will be dispatched the same day.
(please note this is on business days only not weekends or public holidays)


AUSTRALIA
FREE STANDARD SHIPPING on all orders within Australia.
Need it fast? We also offer Express shipping starting at just $5.95 for single items.

Standard Shipping (3-18 Business Days)
Express Shipping (1-3 Business Days)
NEW ZEALAND
$5.00 NZD for single items via Standard Shipping (7-12 Business Days)
$12.00 NZD for single items via Express Shipping (4-8 Business Days)
When purchasing multiple items, the prices will be calculated at the checkout!

INTERNATIONAL
All international shipping prices are calculated at checkout after entering your destination.

The below delivery timeframes indicate business days. These are estimates only. For more up to date information about international delivery and delays click this link.

Country Standard Express
USA 9-12 5-8
Canada 10-15 7-12
United Kingdom 10-18 7-14
Asia 15-20 7-15
Rest of World 15-25 9-15


HOW DO I TRACK MY ORDER?
Once your order is dispatched, you will receive an email with the tracking information and a link to see delivery updates.


NOTES:

We do not take responsibility for lost or damaged items in the mail.

We can't control delays and disruptions with our carriers in transit.

All the above tranit times listed are estimates only.

Any taxes/duties or custom's fees incurred at the destination of your local country is your responsibility