Writen by: Claire Fair November 10, 2023
When I started my journey as a Holistic Sleep Coach almost 3 years ago now, I knew there was a gap that I needed to fill.
You see, I had a really hard journey with my first, he was so wakeful and was a highly sensitive soul – he needed a lot from me, and it was exhausting. I went on the hunt for a gentle solution to help make changes to what felt utterly unsustainable, only to be disappointed time and time again by programs advertising a responsive approach, only to be anything but.
When you have an 'orchid' the things that work for your friends children honestly just do not work for yours and it can be isolating. This is when I knew I needed to find the grey – a middle ground between cry it out, when waiting it out just didn't feel like an option and my searches left me empty handed. I couldn't find any avenue that truly aligned with my parenting.
So I did the next best thing, and decided that I would be that gap for myself and studied to become a Holistic Sleep Coach.
As I was studying, I simply started to share my journey online – never did I think it would grow into a business, but it turned out that a lot of other people were feeling stuck in their sleep situation as well – they didn't want to 'sleep train' but they couldn't continue with the way things were going and from there.
As a Holistic Sleep Coach, its quite common for me to work with little ones who are extremely wakeful and have 'orchid' temperament traits – the adorable little ones who are sensitive to the world around them and need everything to be *just so* in order to sleep and sleep well.
If sleep is something that you are wanting to work on, try focusing on these 8 things to optimise your sleep situation:
1. Create a consistent, connection filled wind down
This is a great way to fill your little one's connection cup before bedtime, create a cue that bedtime is coming and help transition from play.
Research has shown a calm, connection filled and consistent wind down results in easier settles and reduced night wakes!
2. Lots of sleep associations
Introducing lots of different sleep associations is a great way to give both you and your baby LOTS of tools to draw from when it comes to settling and resettling, rather than just the one.
This really helps with night wakes and involving others in bedtime! Some of my faves are a wind down routine, lullabies, white noise, patting, face strokes, handholds and back rubs! You can use these tools while feeding or on their own!
3. Find your baby's unique sleep needs
Everyone has unique sleep needs and it's a big myth that every baby needs 12 hours of sleep overnight and multiple long naps in the day!
Find the right spot for your baby based off of their mood, tired cues and general sleep duration and don't be afraid to experiment to find the right fit for them!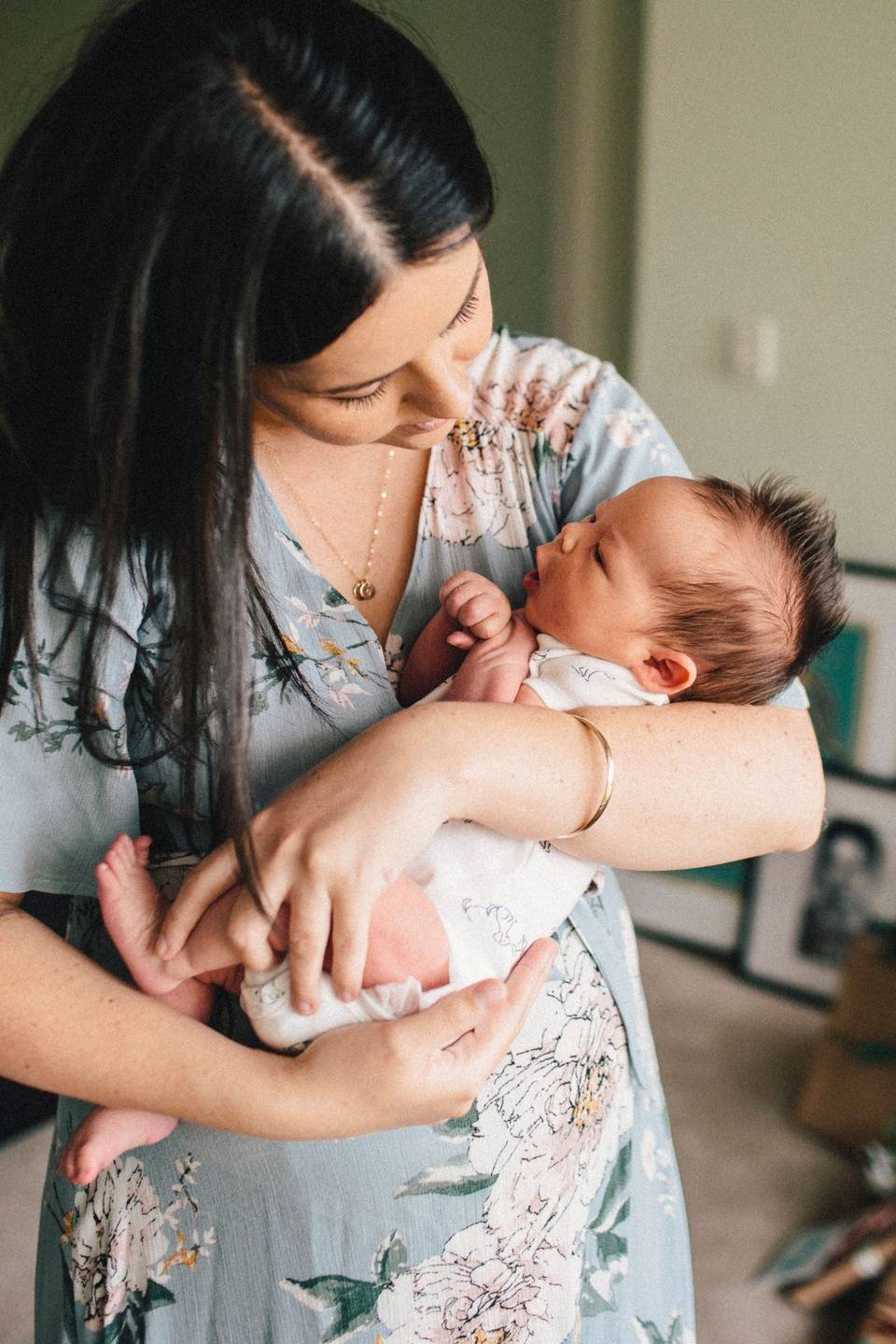 Babies are co-regulators – our nervous system really supports theirs, so if we are feeling overwhelmed, anxious or upset at bedtime or overnight, it can be really tricky to help them to feel calm and regulated.
Of course, it's so normal to feel overwhelmed when sleep is tricky, but can you use some strategies to help? Would listening to some music or a podcast help offer something else to focus on? Can you put on a light so you aren't sitting in the dark – darkness will ALWAYS make things feel worse!
Consider getting a red-based night light that can help with night wakes, the red light will mean that it doesn't impact bubs melatonin or your own so you can get back to sleep quickly and easily!
5. Consider their preferences
Every child has unique sensory preferences and sensitives so explore what seems to be calming and regulating to your baby.
Rather than trying just one kind of white noise, see if they prefer pink, brown, shushing or heavy rain for example! The BEAUTY about Nodiee is that with 34 different sound options, you are BOUND to find the right fit for your baby!
If you aren't sure and your baby is over 6 months, try switching the white noise to pink! Research has shown this will help with falling asleep quicker and staying asleep for longer!
Your baby's temperament will determine the way they react to the world around them.
For some little ones, transitions can be hard and going to bed is one BIG transition. Consider if there are any 'triggers' that are making bedtime hard – does your baby get super upset the minute you turn on the sound machine or close the curtains for example. If you notice this, consider how you can bridge that gap.
Perhaps it would help to move the sleep sack to in the lounge room? Could you close the curtains before you head into the room? Can you have the white noise already playing before you head in there, so that you can use connection to support the transition to the room by holding and giving them lots of eye contact and reassurance on the way in?
There is nothing worse than feeling trapped inside, and sleep shouldn't keep you hostage!
Practice naps on the go in the car, pram, carrier or portacot! I know what you are thinking, BUT HOW! My best tip for this (aside from timing and practice) is to bring your sleep associations with you! If your baby has a comforter, bring it! Bring the same sleep sack they are using from home and their sound machine!
These cues can help your baby to feel safe and secure and help them go down in a new place!
8. Genuine fears and overwhelm
If you have a toddler, or a baby that is highly sensitive, you might find that they just don't do well in the dark, which is hard because we do need darkness to support melatonin.
If you suspect this is your baby, or if you are noticing your toddler is showing signs of genuine fears, consider introducing a red or orange based night light. Research has shown that using red coloured night light will protect melatonin.
Claire is the founder of The Gentle Sleep Coach. She is a OCN Level 6 Holistic Sleep Coach, Circle of Security facilitator and most importantly, Mum of two living in the inner-west of Sydney! Claire & The Gentle Sleep Coach exist to provide a space for those who don't want to sleep train but need to make changes – waiting it out isn't an option! Claire and The Gentle Sleep Coach team provide sleep support to families wanting to make changes to sleep in a TRULY responsive and attachment focused way through 1:1 consultations, sleep courses and guides. Claire is a huge advocate for the Nodiee device. You can follow along for more tips and tricks from Claire @thegentlesleepcoach